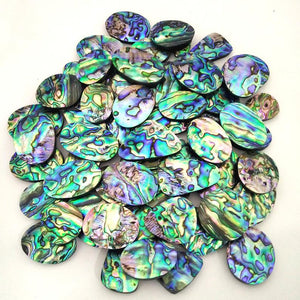 THE EARS OF THE SEA
CALMING · SOOTHING · HEALING
Just as an Abalone Shell provides safe shelter for abalone, it will also lend a protective, healing energy to your spirit. Shielding you from waves of negativity, the soothing energy of abalone shells is one full of peace, beauty, compassion and love. The Native Americans believe this shell to be a sacred shell and use it, along with sage, to carry messages to Heaven. Abalone is excellent to wear when you are in need of guidance in a relationship.
THE STABILIZER
STABILITY · GROUNDING · SUPPORTIVE
With increased concentration and confidence, agate makes it easier to focus on what is good in your life, so that you can heal from mistakes and bring harmony to everything you do. If your life constantly feels out of balance, with one aspect going well while another spins out of control, use agate to establish stability with its grounding energy. This crystal slowly but surely helps you build up your strengths and diminish your weaknesses with acceptance.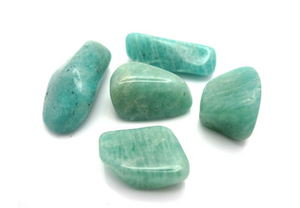 THE PLAYMATE
FLUIDITY · PLAYFUL · OPTIMISTIC
If your mind is polluted with toxic negativity, clean it up with Amazonite. Often, pain that we experienced in our past creates energy blocks in our present. This can manifest into a difficulty expressing yourself in relationships, or even into creative slumps at work. By flooding your heart and throat chakras with loving energy, amazonite opens you up to release that which has hurt you so you can better express yourself in every area of life.
THE INTUITIVE EYE
PEACE · INTUITION · SPIRITUALITY
Amethyst is like a spa-day in a stone, it is the exact kind of relaxing energy that we could all use after a long day. Allow amethyst's energy of contentment to sooth away the day-to-day stresses that keep you up at night. In working with the third eye and crown chakras, Amethyst helps your body give into innate desires like sound sleep and relaxation, but it also works with your third eye to balance the mind with insightful solutions to problems.  It is a powerhouse stone.  Amethyst is a gemstone often worn by healers, as it has the power to focus energy.
RAINBOW ENERGY
HAPPINESS · BEAUTY · JOY
Life may not be all rainbows, but your Aura Quartz crystal will brighten any day with its rainbow energy. When you connect with Aura Quartz, you can tap into a lighter side of life. This crystal fills you with a sense of playfulness that is reminiscent of when you were a kid. It reminds you to laugh, enjoy life, and not take things too seriously. Keep it close to uplift your spirit and help you remember to live life to the fullest.
INCREASE YOUR APPETITE FOR LIFE
INSPIRATION · SATISFACTION · MOTIVATION
Your appetite for life, creative endeavors and passionate pursuits will feel nearly insatiable when overwhelmed by the exhilarating energy of Apatite. This stone's properties reawaken a sense of clarity that lights the path to self-expression. Working with the energy of this crystal helps you to not only recognize your ambitions, but also chase after them with a newfound vigor. Let the inspiration this stirs within you find new creative outlets.
THE TRANQUILIZER
FLUIDITY · SOOTHING · GO WITH THE FLOW
Use Aquamarine to ride the positive waves toward closure, major life changes and a higher consciousness. This water-like stone washes away stress and fear, leaving room for peace and tranquility in their absence. Aquamarine protects the psyche from taking on dark vibrations and negative behavioral patterns. Easy is the essence of the smooth flowing energy of aquamarine. It gently brings rejuvenation and renewal to the mind, body and spirit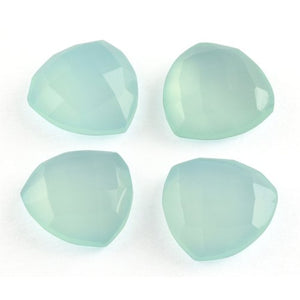 THE CALMING STONE
CALMING · REMOVING NEGATIVITY · GOODWILL
Chalcedony is a family of metaphysical crystals symbolizing goodwill and brotherhood, in which Aqua Chalcy is one of the shining members.  It has a nurturing ability which is beneficial to create composure and calmness especially for those with issues.  It symbolize air and water deities and often associated with weather.  Aside from clearing communication with spirit world, it also helps during meditation to allow one to reach higher realm.  It provides calmness and peace during the process.  It reaches for aligned balance to allow one to enjoy true peace in his/her life.  Aqua Chalcy helps to remove any blockage of negativity.  It is able to remove almost all kinds of negative energy such as as hostility, irritation, anger, obsession, and jealousy.
THE THIRD EYE
INSIGHT · MEMORY · TRANSFORMATION
Opal is a stone of inspiration which enhances imagination and creativity. It can bring inspiration to projects and to life and Spirit. Opal has a larger proportion of water in it than most stones and is considered a water stone. This can help ease the effort of handling change in life. Like water rolls over and past rocks and roots in its way, the energy of opal can help continue on your path regardless of obstacles. During times of transformation, this is an invaluable energy to work with and hold close to your heart. Mentally, opal is said to enhance memory. It is also used to decrease confusion.
THE MANIFESTER
GOOD LUCK · MANIFESTATION · OPTIMISTIC
If you're heading to Vegas, forget about lady luck—you want aventurine by your side! Though playfully referred to as a gambler's stone, Aventurine is helpful to everyone. Sometimes a gamble looks less like a game and more like a fork in the road; a time when you have to decide between security and risk. In connecting with the heart chakra, Aventurine graces the spirit with a sense of confidence that will make jumping out of your comfort zone less scary
THE WIZARD
EXPANSIVE · EMPOWERMENT · WISDOM
Though Azurite gets its name from the word azure, meaning blue, the energy it blesses you with will have you feeling anything but blue. Azurite is often referred to as the "Stone of the Heavens," as it aids in the pursuit of the heavenly self. It is believed to awaken psychic abilities, helping you to recognize intuition and spiritual guidance. It calms and relieves mental stress, helping you to clear your mind and dissolve any blocked energy.
THRUTH SERUM
ANXIETY RELIEF · SOOTHING · CALMING
Fear of public speaking and fear of confrontations usually go hand in hand. If a clog in your throat chakra is holding you back, use the comforting energy of Blue Lace Agate to speak your truth. Let its blue hues sooth anxiety and calm your spirit. The relaxed peace of mind that blue lace agate establishes will promote insightful, authentic and articulate dialogue. Bring in good vibrations and positivity with the heavenly energy of Blue Lace Agate
PEACEFUL ONE
ROMANCE · LOYALTY · HONESTY
Blue Topaz is a stone of peacefulness, calming to the emotions, and ideal for meditation and connecting with spiritual beings. It is a natural magnifier of psychic abilities, assisting those who wish to attune to inner guidance, as well as those who serve others through readings or spiritual healing. Often associated with loyalty and love, this gem represents eternal romance and friendship. Blue topaz symbolizes honesty, clarity of feelings, and deep emotional attachment.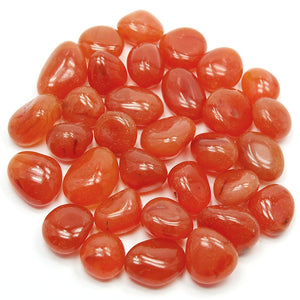 THE ARTIST
CREATIVITY · CONFIDENCE · PASSION
Carnelian is the life of the party. Creative and confident, the energy of carnelian motivates a rush of vibrancy within the sacral chakra to stimulate your inner star. Tapping into carnelian's exciting properties will lend a sense of power that can prove especially beneficial for anyone looking to break through creative blocks or embark on new projects and ambitions. With carnelian close, you'll be sure to impress others with your charm and vitality.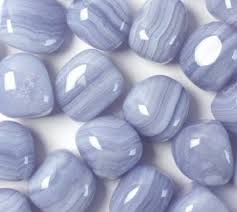 HEALING STONE
EMOTIONAL BALANCE · VITALITY · ENDURANCE
Chalcedony is a nurturing stone that promotes brotherhood and good will.  It absorbs negative energy.  It brings the mind, body, emotions and spirit into harmony.  Chalcedony instills feelings of benevolence and generosity.  It alleviates hostility and transforms melancholy into joy.  Eases self-doubt.  Creates openness and enthusiasm.  Absorbs and dissipates negative thoughts, emotions and bad dreams.
ALL ABOUT NEW BEGINNINGS
STARTING FRESH · HEARTFELT · COMMUNICATION
If you are constantly looking toward the horizon, Chrysocolla is the energy your free spirit needs to stop dreaming about adventure and actually start one. Inspired by the energy of willpower, creativity, confidence and tranquility, you will feel motivated to transform your future ambitions into present realities. Use chrysocolla to commence a new beginning, and be on your way to happily ever after. It's also a great tool for spiritual transformation.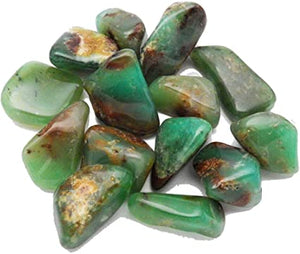 THE RECEIVER
POSITIVITY · OPEN HEARTED · OPTIMISTIC
Can't handle the truth? End the pattern of denial and confront truths with the energy of Chrysoprase. Through a mix of compassion, forgiveness, increased conflict resolution capability and the abandonment of petty judgements, the properties of this crystal will create a mindset ready to take on any harsh truth. The kindness and love that chrysoprase imbue your heart and sacral chakras with will give you a more optimistic and insightful point of view.
THE LIGHT MARKER
HAPPINESS · JOY · LIGHT
Derived from the French word "citron" meaning lemon, this crystal's vibe is anything but sour! Sweet is the essence of this gem. Its sunny attitude cultivates energy that is fertile for growth. It energizes the solar plexus chakra to radiate power, centeredness, confidence and endurance. Citrine is one of few stones that, rather than absorbing negative energy, clears it. It makes room for happiness and light so the spirit is open to positive possibilities.
CRYSTAL CLARITY
MANIFESTATION · GAINING CLARITY
Clear Quartz maybe a rockstar among crystals, but it's no diva—it shares its spotlight. For those whose spirit needs illumination, clear quartz brings clarity to shadows within the mind. A universal healer, it links to all chakras to provide balance and harmony. Its ability to be programed for manifestation is unlike any other crystal. By elevating thoughts and perspective, clear quartz will help manifest your intentions like never before.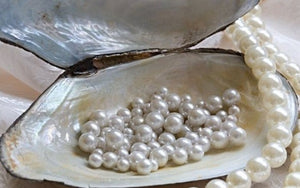 FEMININE ENERGY
NOURISHMENT · PURITY · CALMING
Pearls are considered to be gems of nurturing and nourishment, as their origin is a result of self-nurturing.  As spiritual tokens, pearls are said to assist in calming and centering, as well as nurture your faith, loyalty, integrity and purity. They are also strong symbols of femininity, helping women connect with their "inner goddesses" and obtain the ultimate "feminine energy." Perhaps most importantly, it is said that pearls have specific frequencies of energy vibrations which can re-balance deficiencies in the human body when they are worn.  Fresh water pearls are credited with a very strong absorbing nature; if a happy person wears these pearls, the pearls will be imbued with happiness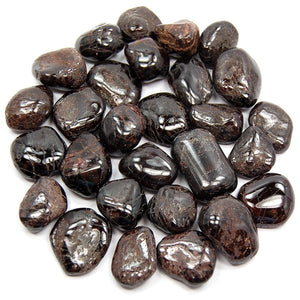 THE ENERGIZER
PASSION · ENERGY · HEALTH
Not all energy has to come in a Venti-sized cup; reenergize the crystal way with garnet, and you'll have all of the vitality without the impending crash. By arousing the chi, or life force, within the physical body, garnet encourages you to go out and smell roses. It clears any energy blockages within the body that are preventing you from living fully. Seize the day and all of your potential with help of this stone for enhancing health, passion and pleasure.
GETTING GROUNDED
GROUNDING · FOCUS · PROTECTION
Hematite tells it like it is. If you're spinning out of control, or spending all your time going over things in your mind on constant replay, hematite is going to give you a reality check. It brings you out of your mind and back down to earth. Hematite's energy focuses on the body, and it teaches us to do the same. Rather than over analyzing due to stress or anxiety, use hematite to connect to your root chakra so that you can stay grounded and just be.
THE SPIRITUAL ONE
CLEANSING · PROTECTION · WISDOM
For thousands of years, Turquoise has spanned all cultures, prized as a symbol of wisdom, nobility and the power of immortality. Among the Ancient Egyptians, Persians and Chinese, Aztecs and Incas of South America, and Native North Americans, Turquoise was sacred in its adornment and for power, luck, and protection.  Tibetan Turquoise, is green and carries a slightly different vibration than the more vivid blue.  It is especially useful for clearing the Throat Chakra, and blockages of suppressed self-expression. As jewelry it is worn by men and women alike, and considered a promise of fidelity and protectiveness to a lover or partner. Tibetan Turquoise is traditionally received as a gift to pass on its natural fortune-bringing powers, so if you buy your own, make it a gift to yourself.
THE NURTURER
GROUNDING · NURTURING · CENTERING
Jasper almost seems to hug you with its comforting essence. Jasper's grounding energy is the support you can lean on when stress is tearing you down. It healing properties bring stability to your body and spirit by balancing the root chakra. As a supreme nurturer, jasper soothes the mind of anxiety so that it can focus on other things. Jasper's encouragement helps you to take on new pursuits, deal with conflicts and approach problems with creative solutions.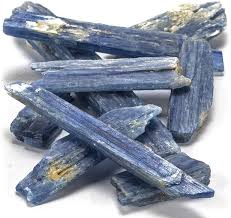 MEDITATION & ATTUNMENT
VIVID DREAMS · CHANNELING · SERENITY
Kyanite is an excellent stone for meditation and attunement.  It will not retain negative vibrations or energy, therefore never requiring clearing.  Kyanite aligns all chakras and subtle bodies instantly.  It provides balance of yin-yang energy and dispels blockages, moving energy gently through the physical body. Kyanite has a calming effect on the whole being, bringing tranquility.  It encourages psychic abilities and communication on all levels.  It drives away anger, frustration, confusion and stress and helps to provide a capacity for linear and logical thought.  Kyanite provides a stimulating energy, encouraging perseverance in and support of activities and situations which would normally reduce one's strength.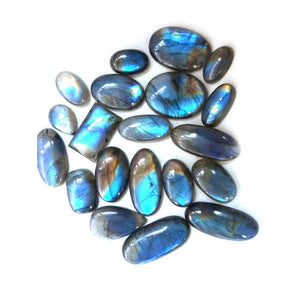 THE MAGICIAN
LIMITLESS POTENTIAL · SLEEP SOUNDLY
With the mystical energy of labradorite, sparks of neon will illuminate the path to your destiny. Labradorite is a stone of magic and curiosity. Wearing or holding Labradorite helps you tap into a higher state of consciousness. It's a protective stone as well, so it will keep your energy body grounded, while allowing you to explore the expanded states of the universe. By connecting to and healing all chakras, it boosts mental and spiritual power. Labradorite opens you up, forcing you to become self-aware enough to see what you want.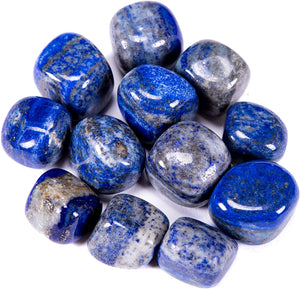 THE WISDOMKEEPER
TAKING LEAD IN YOUR OWN LIFE
Realize your spiritual potential with the high vibrational energy of Lapis Lazuli. Full of the wisdom and awareness that this stone brings, your soul will be ready to embark on a journey of awakening. Strive toward enlightenment as you pursue your true destiny, and leave pettiness and stress behind. This is a powerful stone for broadening your understanding, and should be used especially by those having issues with self-expression and self-awareness.
THE TRANSFORMER
TRANSFORMATION · OPENESS · LOVE
Tough love from a tough crystal, Malachite is the friend you go to when you need unfiltered relationship advice. If something always seems to go wrong in your relationships, Malachite can cleanse the chakras and bring you to a realization about what's not working. It's one of the most powerful transformational crystals for the heart. It provides emotional balance that encourages you to take the action to remove negative patterns and transform.
THE DESTINY MAKER
DIVINITY · BALANCE · TENDERNESS
The milky radiance of a Moonstone crystal represents tenderness, and is believed to bring lovers closer together. Moonstone is a magical stone that connects you to your divine feminine and inner Goddess. It helps you unlock the energy of the Moon that resides within you to keep you in a more balanced state. Moonstone acts as a guide to help you do what's necessary to become more balanced, healthy and in sync. Moonstone is the light in the darkness.
THE MIRROR
SELF-REFLECTION · PROTECTION · GROWTH
Mirror, mirror, on the wall, who is the most self-aware of them all? With black obsidian in hand, it's probably you. Facing the good, the bad, and the ugly parts of ourselves is hard, but obsidian makes it easier. It forces you to accept your true self entirely. Working with black obsidian will assist you in cutting the stress and negative patterns from your life by first bringing them to your attention, then absorbing that toxic energy.
LET IT ALL GO
PROTECTION · RELEASE · CALM
Sometimes it can feel like we're walking a tight rope. Adopting the energy of Onyx let's you breathe easier, giving you the balance, confidence and protection to take the next step. Onyx will help you to see what is weighing you down and release it from your life. By fortifying your decision making capabilities, onyx encourages you to stop concentrating on the rope or the potential to fall, and instead look forward at the bright future ahead of you.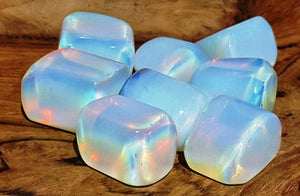 THIRD EYE CHAKRA
PSYCHIC ABILITIES · SPIRITUALITY · TRANSITION
Opalite improves communication on all levels, especially the spiritual. It removes energy blockages of the chakras and meridians. Emotionally, Opalite helps by assisting during transitions of all kinds. It engenders persistence and gives us strength in verbalizing our hidden feelings.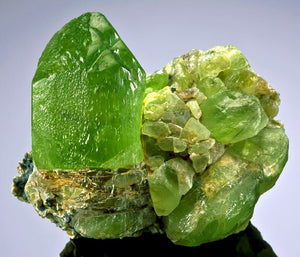 VITAMIN D
EFFERVESCENT · JOY · HAPPINESS
Skip being green with envy, and use the energy of Peridot to become green with abundance. Resentment doesn't look good on anybody. Peridot, a stone of light, helps you to ditch toxic emotions of jealousy, spite and stress, and replace them with insight, confidence and a radiant sense of purpose. The beauty of this energy will shine through you, as it washes you with powerful cleansing properties that will leave you with a lighter, more pure essence.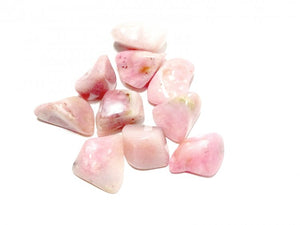 KINDNESS WITHIN
HOPE · LOVE · EMOTIONAL HEALING
The soft and gentle energy of Pink Opal reminds you to be gentle with yourself and others around you. It facilitates kindness, compassion, empathy, and tenderness in your relationships by opening your heart and softening your energy. By embracing and practicing these behaviors with others, you can also learn to treat yourself with a similar sense of understanding and sensitivity. As you shift your demeanor, your relationships will grow in new and profound ways.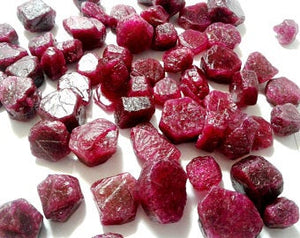 THE FIRE WITHIN
PASSION · CREATIVITY · LOVE
Ruby is believed to promote loving, nurturing, health, knowledge and wealth. It has been associated with improved energy and concentration, creativity, loyalty, honor and compassion. Ruby is thought to be protective of home, possessions and family.  Rubies have forever been considered the stones of love, passion, energy, and power. It is for this reason that a ruby is considered the most emotionally powerful gemstone on the planet. Ruby is said to stimulate heart chakra and bring spiritual wisdom while shielding again psychic attacks.  The red color also symbolizes blood, which is why the ruby is believed to increase energy and vigor.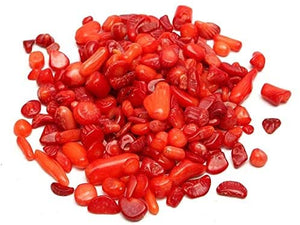 THE PASSIONATE ONE
JOY · ROMANCE · ABUNDANCE
Red Coral evokes passion, romance and strength.  It is a gemstone that symbolizes joy, prosperity, protection and abundance.  Wearing Red Coral aids in the ability to understand the purpose of things, while encouraging creativity.  This crystal is a good assistant in meditation and visualization, bringing zen, clarity and emotional balance.  It stimulates the base chakra,  and helps to focus energy on the pursuit of goals.  This stone protects from depression and despondency, while helping to diminish compulsive behaviors. Red Coral boosts leadership qualities, aiding determination and seeing projects through to completion.  It clears feelings of resentment and frustration.  Wearing this gem is also used to bring luck and pleasant dreams.
THE LOVE MAGNET
UNCONDITIONAL LOVE · FORGIVENESS · COMPASSION
See the world through rose tinted glasses by tapping into the universal love of rose quartz. This stone will open up your heart chakra to every kind of love that you need—whether it's self-love, familial love, friendship love, love for humanity or romantic love. As a flush of compassion, happiness, forgiveness and peace pulses through you, rose quartz will assist you in releasing toxic emotions so your spirit can finally be free of petty negativity.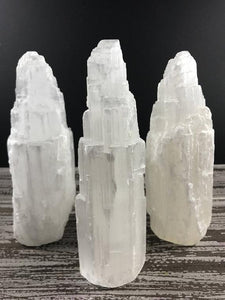 LIQUID LIGHT
CLEANSING YOURSELF AND YOUR SPACE
The pure, high vibrational energy of Selenite is like liquid light. As it flows through your space, it brightens the energy of everyone and everything within it. Selenite has the ability to cleanse, purify and align you with your highest potential. Low vibrational energies attract negativity on the same level. Raising your vibration is essential to keeping feelings of grief, fear, anger and anxiety out of your mental and physical space.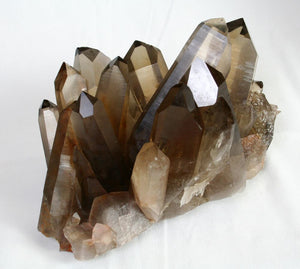 LEAVE YOUR BAGGAGE BEHIND
LETTING GO · SURRENDER · GROUNDING
Smoky Quartz isn't the kind of energy that's going to let you sit in a dark, stuffy room and pout. This crystal wills you to get up, draw the curtain to positive light, and open the windows to let the air of negativity out. Working with Smoky Quartz helps you to overcome negative emotions such as stress, fear, anger, jealousy, and even feelings of depression. Elevate your mood with this stone that helps you remain balanced in any situation.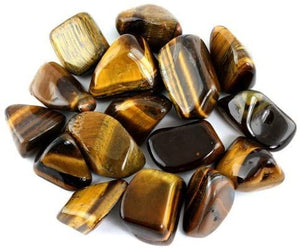 THE SHAPE SHIFTER
BUILDING COURAGE · ATTRACTING WEALTH
Tiger's Eye's ability to bestow fierce focus and primal power bolsters its tiger-like reputation. This crystal shifts your outlook so that you can gain a deeper understanding of yourself. Is there a new hobby you'd like to try? A solution to a problem you haven't considered? An aspect to yourself that you haven't indulged? Tiger's eye connects to the solar plexus and sacral chakras to ground you in the power you need to pursue those ventures.
THE MASTER HEALER
HEALTH · PROTECTION · WISDOM
Said by Native American cultures to be the bridge between heaven and Earth, Turquoise provides a path to your vibrationally highest self. Many Native American cultures believe that turquoise connects the mind to the infinite possibilities of the Universe. As a throat Chakra stone, turquoise helps to foster honest and open communication. In working to protect and align the chakras, turquoise strengthens the entire mind and body in the process.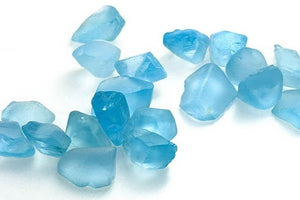 BRINGER OF JOY
GENEROSITY · ABUNDANCE · TRUTH
Topaz is best known for its manifesting properties, it is a crystal of joy, generosity, abundance and good health.  It is known as a stone of love and good fortune, and is said to release tension and encourage relaxation. Blue Topaz brings truth and wisdom; it aids in clear communication. It is said to help you recognize where you have strayed from your own truth.
It is said to promote truth and forgiveness. Topaz promote openness and honesty, self-realisation and self-control.